Jorge O. Galante
Dr Jorge O. Galante, a leader and pioneer in the field of joint replacement, passed away on 9 February 2017 at the age of 82. He is survived by his brother, son, step-daughter, and four beautiful grandchildren. Read more...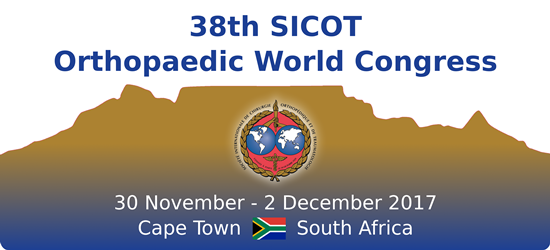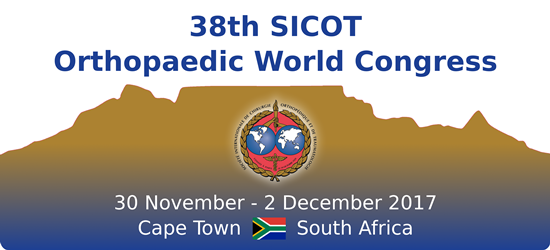 Registration
Online registration is open here.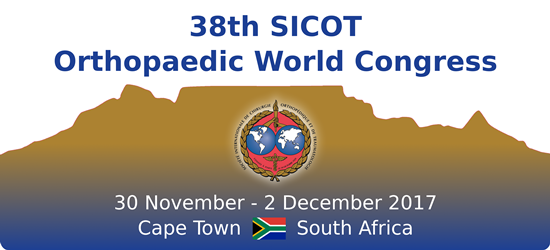 Scientific Programme
The scientific programme will include world standard orthopaedics inclusive of lecture presentations and workshops for the more general orthopaedic surgeons as well as super-specialists. Internationally acclaimed invited speakers will ensure that trainees and experts will be up to date with the latest modern orthopaedic technology and evidence-based medicine.

Plenary Speakers
We are pleased to announce that Oheneba Boachie-Adjei, Fares Haddad, and Ashok Johari will be the plenary speakers at the SICOT Congress in Cape Town. Read more...

7th SICOT Educational Day
The aim of the Educational Day, which will be held on Wednesday, 29 November, is to provide a comprehensive review course for the residents and an evidence-based update for the practising surgeons on a specific theme at each SICOT Congress. The format of the day consists of four to six short lectures in each section followed by ample time for case discussions and debates and ample breaks. The theme for the Cape Town meeting is 'The Hip' and the day will focus on all the elements of hip surgery right from anatomy and surgical approaches to complex case discussions. Read more...

24th Cooperative Course for Polytrauma Management - Beyond ATLS
International experts in traumatology will be sharing their experience during this course which will be held on Wednesday, 29 November. By partnering with SICOT the registration fee for this year's course has been reduced to EUR 50. Read more...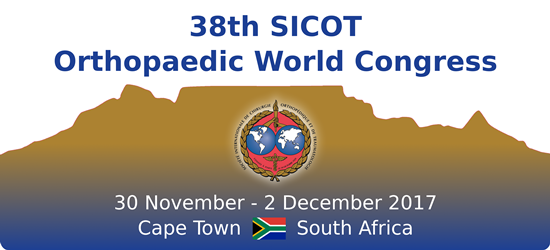 Diploma Examination
Registration for the Diploma Examination is open!​ The 15th SICOT Diploma Examination will take place on Wednesday, 29 November and will consist of a written part and an oral part. Read more...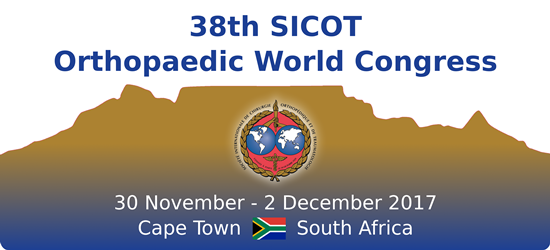 Awards
Several awards will be granted at the Congress to reward surgeons for their scientific achievement or to help young doctors attend the Congress by supporting them financially. Read more...
NEW! The SICOT Research Award Programme is a new initiative and comprises three awards of USD 2,000 each. Read more...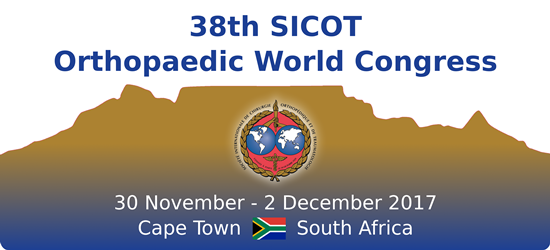 Social Programme
Don't miss the Opening and Closing Ceremonies which will be a great opportunity to meet other orthopaedic surgeons from around the world. We are pleased to announce that Devi Prasad Shetty will be delivering the Presidential Lecture at the Opening Ceremony. Read more...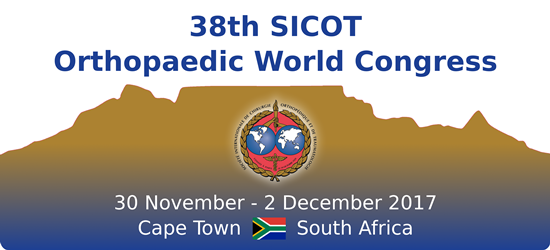 Cape Town Information
Click here to get useful information about the city of Cape Town and what it has to offer. More information can also be found on the Cape Town Tourism website.
​
*************************************************************************

Registration deadline: 19 May 2017
It is our great pleasure to announce this educational event organised by SICOT.
The course is designed for practising surgeons who have an interest in shoulder surgery. The course will provide an understanding of shoulder surgery across Arthroscopy, Trauma, and Arthroplasty. During the 3-day event, participants will learn, discuss and debate a highly diverse agenda on all aspects of shoulder surgeries. Case discussions and highly practical hands-on cadaveric workshops will enable participants to learn from the experts' rich experiences, tips, and tricks.
We have an excellent venue in Bangkok and participants will enjoy both the educational content and the Thai hospitality.
Frankie Leung (Hong Kong)
SICOT Cadaveric Course Director

Tak Man Wong (Hong Kong) & Khongkhet Riansuwan (Thailand)
Course Chairpersons

SICOT is awarded the Medal of the French Academy of Surgery
by Henri Judet
​I have the pleasure of announcing that on 11 January 2017 SICOT was honoured by the National Academy of Surgery of France. Historically called the Royal Academy of Surgery, this Academy was founded in 1731 by King Louis XV at the request of Georges Mareschal, Head Surgeon at the "Hôpital de la Charité" in Paris. Read more...

Report of the "Cadaveric Knee Dissection and Arthroscopy" workshop held under the auspices of SICOT India
by Vaibhav Bagaria
An update and hands-on training workshop on "Cadaveric Knee Dissection and Arthroscopy" was held in Mahatma Gandhi Institute of Medical Sciences, Sevagram on Sunday, 5 February 2017. The workshop was jointly organised by the Anatomy, Orthopaedics & Radiodiagnosis departments of MGIMS and SICOT India. Maharashtra Medical Council, Mumbai, had accredited the workshop and granted credit hours for delegates and faculty. Read more...

Report on the VI Egyptian Orthopaedic Association Spring Congress & XXIV SICOT Trainees' Meeting
by Ahmed H. Abdelazeem
Every spring, the Egyptian Orthopaedic Association (EOA) organises a Congress in cooperation with one of the Egyptian universities. This year, it was Cairo University's (CU) role to scientifically organise this annual event. Aiming for a strong scientific event, we started planning one and a half year before. We wanted to implement new ideas and accordingly sought to involve an international body that would enrich and greatly contribute to the event. We knew from Prof Hatem Said that the Editorial Board meeting of the SICOT journal, International Orthopaedics (IO), would be held around the same time in Luxor, Egypt. Since then the Scientific Committee of the Congress, headed by Prof Ashraf El Nahal (former head of the CU Orthopaedics Department), together with the EOA Board, headed by Prof Alaa Elzohairy, started contacting the IO Editorial Board members and the SICOT Head Office with a view to combining both events. We thought that it would be great to invite more international figures to participate in the event. Finally, we were able to find a common ground between all parties and start planning for this Congress. Read more...



Article of the Month: International Orthopaedics Journal
Treatment of irreparable cuff tears with smoothing of the humeroscapular motion interface without acromioplasty
Jason E. Hsu, Jacob Gorbaty, Robert Lucas, Stacy M. Russ & Frederick A. Matsen III
Purpose: We sought to determine whether shoulders with irreparable rotator cuff tears and retained active elevation can be durably improved using a conservative surgical procedure that smoothes the interface between the proximal humeral convexity and the concave undersurface of the coracoacromial arch followed by immediate range of motion exercises. Read more...

Article of the Month: SICOT-J
Meniscal allograft transplantation: a meta-analysis
Manolito De Bruycker, Peter C.M. Verdonk & René C. Verdonk
Purpose: This meta-analysis evaluates the mid- to long-term survival outcome of MAT (meniscal allograft transplantation). Potential prognosticators, with particular focus on chondral status and age of the patient at the time of transplantation, were also analysed. Read more...

Case of the Month
by Mikalai Chumak & Pavel Volotovski
​A 36-year-old man suffered from pain in the lumbar spine, periodically radiating to both legs. The pain was present for about 4 months, then spontaneously resolved for 4 months and resumed again after exercise. Palpation of the lumbar spine was painful in the projection of the L3 vertebra. There was no neurological deficit. X-ray of the lumbar spine in 2 views showed changes in the shape of the L3 vertebra. A complete blood count revealed an increase in ESR to 18 mm per hour.
Q. What is your provisional diagnosis for this patient? Read more...


SICOT e-Science Bulletin
by Ashok Johari
It is said that education is the cornerstone of progress. Our belief is that educating ourselves is the key to better patient care and all advances that go with it.
Education is the prime objective of SICOT and with this aim we launch a new initiative: the e-Science Bulletin. This initiative features 4 issues in a year under the leadership of Dr Hitesh Gopalan from India with his specialty team. It will bring to you an understanding of contemporary orthopaedic research and literature.
I trust that the bulletin will be useful for our members and we would be grateful for your feedback and comments on [email protected].

The History of Orthopaedics in Belarus
by Pavel Volotovski
Before the First World War, Belarusian Orthopaedics was part of General Surgery. It is known that in the beginning of the XIX century Karl I. Gibental worked as a surgeon and inspector on the Minsk and Vitebsk medical boards. In foreign literature, the idea of plaster cast is associated with the name of the Flemish surgeon Mathisen and in Russia it is with N.I. Pirogov. However, Karl I. Gibental started to use plaster bandage for the treatment of long bone fractures long before them, in 1812. Read more...


Fellowship Report: Bezmialem Vakif University/SICOT Fellowship
by Saheed Yakub
I had my SICOT fellowship at the Department of Orthopaedics and Trauma of Bezmialem Vakif University Hospital in Istanbul, Turkey. It was indeed a wonderful experience that will continue to linger in my memory. The fellowship award was a dream come true after six years of persistent application for a SICOT fellowship. I was therefore very elated when I received the congratulatory message from Dr Fatih Kucukdurmaz informing me of my selection for the newly announced Bezmialem Vakif University/SICOT Fellowship. This made me one of the first beneficiaries of the fellowship. Read more...

Hiranandani Orthopaedic Medical Education (HOME) Fellowship Report 2016
by Varun Gupta
A defining moment in my career was when I joined the clinical research fellowship in advanced hip and knee reconstruction (Hiranandani Orthopaedic Medical Education (HOME) Fellowship) at Dr L.H. Hiranandani Hospital under the guidance of Dr Vijay Shetty. Staying in a vibrant city (Mumbai) and at one of the best hospitals and learning from one of the pioneers in joint replacement surgery was an experience of a lifetime and, so far, the best time in my career. Read more...

Upcoming Application Deadlines
Bezmialem Vakif University/SICOT Fellowship: 31 May 2017 - Read more...
Lagos National Orthopaedic Hospital/SICOT Fellowship: 31 May 2017 - Read more...
TCH/SICOT Research Fellowship Programme: 1 June 2017 - Read more...
Khoula/SICOT Fellowship: 30 June 2017 - Read more...


Orthopedics in Disasters
by Nikolaj Wolfson

This book is the first to address specifically the mechanisms and treatment of orthopaedic injuries due to natural disasters and other mass casualty events. Casualty management is discussed in a range of contexts, from earthquakes and tsunamis to terror attacks and combat situations. Organisational aspects are addressed, general treatment principles are documented, and the management of a variety of orthopaedic injuries is described with the aid of numerous illustrations. The book will serve as an invaluable source of practical knowledge for a broad spectrum of medical and other staff, including emergency personnel, orthopedic and trauma surgeons, general practitioners, medical students, and professionals working for the military, government bodies, and NGOs.​ Read more...

Editorial Department
Editorial Secretary: Hatem Said
Associate Editors: Syah Bahari & Mohamed Sukeik
Editorial Production: Linda Ridefjord
Editorial Board: Ahmed Abdel Azeem, Bassel El-Osta & Pavel Volotovski
SICOT aisbl, Rue de la Loi 26-b.13, 1040 Brussels, Belgium
Tel.: +32 2 648 68 23 | E-mail: [email protected] | Website: www.sicot.org

Disclaimer
Some of the views and information expressed in this e-Newsletter include external contributors whose views are not necessarily those of SICOT. SICOT is not responsible for the content of any external internet sites.