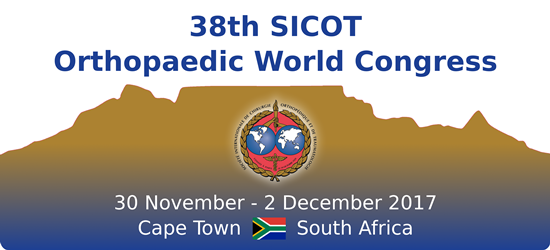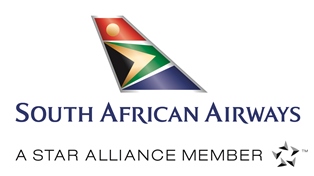 South African Airways (SAA) is the Airline Partner of the 38th SICOT Orthopaedic World Congress.
Please click here for more information on the discounts being offered by SAA.


Registration
Online registration is open here!


Scientific Programme
The scientific programme will include world standard orthopaedics inclusive of lecture presentations and workshops for the more general orthopaedic surgeons as well as super-specialists. Internationally acclaimed invited speakers will ensure that trainees and experts will be up to date with the latest modern orthopaedic technology and evidence-based medicine.
7th SICOT Educational Day
The aim of the Educational Day, which will be held on Wednesday, 29 November, is to provide a comprehensive review course for the residents and an evidence-based update for the practising surgeons on a specific theme at each SICOT Congress. The format of the day consists of four to six short lectures in each section followed by ample time for case discussions and debates and ample breaks. The theme for the Cape Town meeting is 'The Hip' and the day will focus on all the elements of hip surgery right from anatomy and surgical approaches to complex case discussions. Read more...

24th Cooperative Course for Polytrauma Management - Beyond ATLS
International experts in traumatology will be sharing their experience during this course which will be held on Wednesday, 29 November. By partnering with SICOT the registration fee for this year's course has been reduced to EUR 50. Read more...

Plenary Speakers
We are pleased to announce that Oheneba Boachie-Adjei, Fares Haddad, and Ashok Johari will be the plenary speakers at the SICOT Congress in Cape Town. Read more...

Partner Societies
SICOT is grateful to these societies for contributing to the scientific programme and organising symposia. Read more...

Peer Reviewers
Special thanks go to the members of the Scientific Board who kindly gave their time to review the abstracts submitted for the Congress. Read more...


Awards
SICOT is pleased to announce that two new scholarships will be awarded at the Congress: NuVasive/SICOT Foundation Scholarships and OrthoPediatrics/SICOT Foundation Scholarships. Application deadline: 1 October 2017 - Read more...

Social Progr

amme
Don't miss the Opening and Closing Ceremonies which will be a great opportunity to meet other orthopaedic surgeons from around the world. We are pleased to announce that Devi Prasad Shetty will be delivering the Presidential Lecture at the Opening Ceremony. Read more...

Accommodation

Various hotels close to the convention centre are available to delegates. Early booking is recommended. Read more...


About Cape Town
Click here to get useful information about the beautiful city of Cape Town and what it has to offer.


Visas & Travel Information
Information regarding visa application and travelling in South Africa can be found here. Please check if you need a visa to enter South Africa well in advance.

1st Cape Town Trauma Conference

It is with pleasure that we invite you to the Cape Town Trauma Conference(CTTC) to be held on 23 and 24 November 2017. The aim of the Conference is to highlight the massive trauma contribution to the global and local burden of disease, the best evidence based management principles, and the need for prevention strategies.

Globally there are more deaths from trauma than from HIV/AIDS, tuberculosis and malaria combined and 90% of these trauma related deaths occur in low and middle income countries.

It is time for change and we welcome all pre-hospital providers, emergency doctors and nursing staff, surgeons, academics and governments to be a part of this movement.

Andrew Nicol, Sithombo Maqungo and Sebastian Van As
Organising Committee

This Congress is held under the auspices of the South African Orthopaedic Trauma Society and the Trauma Society of South Africa
Report on the SICOT Comprehensive Shoulder Course with Cadaveric Dissection
by Tak Man Wong
With the success of the first SICOT Course on Pelvic and Acetabulum Injuries with Cadaveric Dissection in 2016, the second SICOT cadaveric course was held on 22-24 June 2017 at Siriraj Hospital in Bangkok, Thailand. The theme this time was "Shoulder Surgery", which was designed for practising surgeons who have an interest in shoulder surgery. Kongkhet Riansuwan and I were the Co-Chairpersons of this shoulder course. We were also glad to have Hatem Said, Peter Yau, Andy Wee, Wai Lam Chan, Dongju Shin, Christian Fang and Jimmy Jin as overseas faculty members. Read more...

SICOT e-Science Bulletin
Volume 2 of the SICOT e-Science Bulletin is now available! Click here to download it.



Article of the Month: International Orthopaedics Journal
A study of normal foot abduction across various age groups in children
Gupta P, Mittal N, Jindal N, Verma P, Sharma M.
Introduction: The relapse rate after Ponseti method of correction has reduced in recent years which is attributable to the better appreciation of the need to achieve the correct degree of abduction. Ponseti recommended clinical 'overcorrection' of the foot to 700 of abduction. However, no scientific basis for this figure was found in literature. As the indications of Ponseti method extend to older children, we conducted a study to find out the amount of foot abduction to be achieved before applying a foot abduction brace in various age groups. Read more...

Article of the Month: SICOT-J
Computer assisted navigation in total knee and hip arthroplasty
Kamal Deep, Shivakumar Shankar & Ashish Mahendra
Introduction: Computer assisted surgery was pioneered in early 1990s. The first computer assisted surgery (CAS) total knee replacement with an imageless system was carried out in 1997. In the past 25 years, CAS has progressed from experimental in vitro studies to established in vivo surgical procedures. Read more...


How I do surgery for resistant Congenital Talipes Equinovarus
by Mohammad Arshad Ikram
Idiopathic congenital talipes equinovarus (CTEV), also known as clubfoot, has been a recognised deformity since the time of the Ancient Egyptians and was independently described by both Hippocrates and the Aztecs. Surgical intervention began in the late 1700s with Lorenzís Achilles tenotomy. However, effective soft-tissue releases, osteotomies, and tendon releases were not developed until the late 1800s with the advent of anaesthetic improvements and aseptic techniques. The adoption of the Ponseti technique has resulted in fewer and less-invasive operations for CTEV population, with accompanying improvement in the overall gait pattern and parent satisfaction. Read more...


The creator of the word 'Orthopaedics' and the 'Crooked tree' logo
by Ahmed Abdelazeem
All orthopaedic surgeons worldwide know that the word "orthopaedics" is derived from the Greek words: "orthos" (ὀρθός) which means "straight" and "paidion" (παιδίον) which means "child". However, who was the creator of this word and how did it come to be used? Read more...

Biomechanical characteristics of load distribution on different parts of the foot in congenital recurrent clubfoot
comment by Pavel Volotovski
Congenital clubfoot is one of the most common congenital anomalies in children. During the last decades, approaches to the treatment of congenital clubfoot in newborns have changed dramatically - the surgical treatment (complete or partial releases) has been replaced by well-known conservative methods. The method of conservative treatment proposed by Ponseti has become the gold standard in the primary treatment of this pathology. However, the problem of relapses is still relevant. Read more...


Report on the "SICOT meets SICOT" Fellowship Programme at Infanta Leonor University Hospital in Madrid, Spain
by Nipun Rana
The "SICOT meets SICOT" programme allows surgeons, who are members of SICOT under 45 years of age and have finished their residency, to undertake a fellowship at a centre of excellence. It was my pleasure to have received the 2016 "SICOT meets SICOT" fellowship award that allowed me to visit the Infanta Leonor University Hospital in Madrid, Spain, under the supervision of Dr Oliver Marin-Peña. Dr Oliver Marin-Peña is a stalwart in the management of hip disorders, such as femoroacetabular impingement (FAI), in young patients and has many published books and research articles in the field of hip replacements, arthroscopy and re-surfacing procedures. Read more...

Report of the B. Braun Aesculap/SICOT Short Stem Hip Arthroplasty Fellowship at Annastift Klinik of Hannover Medical School, Germany
by Sittichai Thanumpai
To begin with I would like to thank SICOT and B. Braun Aesculap for selecting me for this esteemed fellowship. Hannover is a beautiful, clean and green city, the capital city of the Lower Saxony region of Germany, with abundant forest cover in and around the city. I reached Hannover on 1 April 2017 and my fellowship started on 3 April 2017. I met Prof Dr Windhagen and he introduced me to his consultants and doctors. I started attending clinics and operating rooms. The Annastift Endoprosthetik unit has been doing short stem arthroplasty for more than 10 years with more than 2,000 cases. Read more...

Hip & Knee Arthroplasty
prepared by Asif Parkar
Patients who have hip pain in the first 3 months after hip arthroplasty with no radiographic evidence of dislocation or periprosthetic fracture must be evaluated for infection. For such patients the most specific and sensitive method to diagnose early infection is:

nuclear medicine bone scan

serial radiographs

SPECT CT

joint aspiration

inflammatory markers ESR & CRP
Editorial Department
Editorial Secretary: Hatem Said
Associate Editors: Syah Bahari & Mohamed Sukeik
Editorial Production: Linda Ridefjord
Editorial Board: Ahmed Abdel Azeem, Bassel El-Osta, Gandhi Solayar & Pavel Volotovski
SICOT aisbl, Rue de la Loi 26-b.13, 1040 Brussels, Belgium
Tel.: +32 2 648 68 23 | E-mail: [email protected] | Website: www.sicot.org

Disclaimer
Some of the views and information expressed in this e-Newsletter include external contributors whose views are not necessarily those of SICOT. SICOT is not responsible for the content of any external internet sites.