Best wishes for 2018 to you and your family from SICOT!

Special Issue
Women in Orthopaedics
by Syah Bahari & Ahmed Abdelazeem

Merry Christmas and Happy New Year 2018!
On the eve of a new year, SICOT and its Newsletter Editorial Board have decided to introduce a special interesting volume to be the New Year's present to the orthopaedic worldwide community. We thought about various subjects as the theme of this special issue. We searched and reviewed "unusual" fields, thinking about what would be interesting and attractive. Finally, we chose to discuss "half of our community problems", the "female orthopaedic surgeon problems" in our "male-dominated field". We were looking for a memorable and outstanding issue covering all aspects of a "women orthopaedist's" life.
You will read in this issue interesting short articles written by different orthopaedic female surgeons from different parts of the world sharing their unforgettable and remarkable experiences in this "harsh" job. Starting from how they were convinced to enter the orthopaedics world, how they worked hard to prove themselves and overcome the difficulties of balancing family and their patients at the same time. Read more...

by Emily Miller

While women have been health care providers for much of recorded history, they were systematically excluded from organized western medicine starting in the twelfth and thirteenth centuries1-3. Women started to fight their way back into medicine internationally. After the passage of the 1972 Education Amendments to the Civil Rights Act in the United States, the number of female graduates from medical schools began increasing at a steady rate4-5. Similar trends have followed the rise of feminist movements in many other nations, with women now forming approximately half of medical school graduates in most western countries. However, the rate of women completing orthopaedic surgery residency programs has progressed at a much slower rate, even in comparison to other surgical subspecialties. While approximately 30% of currently active physicians are female, the percentage of female orthopaedic surgeons in the US is 5%, making it the most gender imbalanced area of medicine (below even urology with 8% and neurosurgery with 7.8%). This discrepancy becomes even more stark given that in 1970, although female representation among surgeons was <1% in all subspecialties, there was no significant discrepancy in female representation between specialties. This lag in the recruitment of women into orthopaedic surgery indicates the existence of barriers to the entry of women into this field. This article focuses on these barriers and how they can be mitigated. Read more...
by Ratna Johari Maheshwari
It was just over 150 years ago that Elizabeth Blackwell, a determined young girl, became the first American woman to gain admission to medical school. She did so in spite of popular prevailing theories of those times which proclaimed that women seeking education in medicine would develop "monstrous brains and puny bodies and abnormally weak digestion". When she entered the class on her first day a death­like stillness prevailed, as if each member had been stricken with paralysis. It is due to trail blazing women like these, who showed unflagging zest in the face of hostility, that we owe the numerous women in the medical profession. Today, women constitute around 50% of an average class in medical school. However, orthopaedics has the lowest percentage of women in a surgical specialty, with only 4.3% of board certified orthopaedic surgeons being female according to the United States data. Read more...
by Patricia Fucs
As the President-Elect 2018 of one of the oldest orthopaedic societies in the world, I will take the office of the Brazilian Society of Orthopaedics and Traumatology (SBOT) in January 2018. SBOT has almost 12 thousand members, and it is only smaller than the American AAOS and EFORT, the European Community. It is a large and complex society, with an important role in medical education and public health campaigns in Brazil, a country with 207 million inhabitants. Read more...
by Temiloluwa Olufemi
Like all women in the male-dominated field of Orthopaedics, mine is a road less travelled. But thanks to SICOT, my world literally changed in the year 2013. I had just qualified as an Orthopaedic Surgeon, one of three practising females in the entire country amidst about 300 males. I was consumed by a desire for change in trauma care in my sub-region and was highly motivated to be an agent of the same. Read more...
by Amparo Gómez Gélvez
I decided to study orthopaedics in 1990 because, being a surgical field, it would allow me to offer patients an efficient and expeditious way to solve their medical problems and offer them a better quality of life. My family and medical peers were surprised and worried for me because it was a specialty "designed" only for men, which required "great physical force". During my admission interview I was asked what would happen if I got married and had children, if I considered myself physically strong enough, and why they should prefer me over a male candidate. When I was admitted into the Orthopaedic Programme at Universidad Javeriana, Colombia had only two female orthopaedic hand surgeons, one female paediatric orthopaedist and a female doctor training in second year of our university department; no other women were training to be orthopedists in the whole country. Read more...
by Anna Ekman
During medical school, I decided quite early to specialise in surgery. Back then I did not realise that Orthopaedic surgery was its own speciality. I thought it was a subspeciality to general surgery. So I started doing general surgery in a smaller hospital in Sweden, where you during calls also did orthopaedic surgery (fractures). I did general surgery for three years, thinking that the bone part of it was the best. It never occurred to me that I could become an orthopaedic surgeon. Maybe it was because I had never seen a female orthopaedic surgeon, I do not know. On the other hand, I had heard about one female general surgeon. One day the Head of the orthopaedic section asked me if I wanted to become an orthopaedic surgeon, because he liked the fracture surgery I had done during calls. I guess that if I had not been invited, I would still be doing ileuses. I think that one difference between genders, in this sense, is that as a young female surgeon you are even more dependent on goodwill and acceptance. Read more...
by Ruba H. Jamalallail
During my 6th year of medical school, I observed a couple of orthopaedic procedures as part of my medical school training, which really caught my attention. I was especially fascinated by all the science behind it in so many ways; by the entire pre op planning strategies and problem solving that the surgeons carry on before they operate on crippled patients no matter how difficult it might get. Read more...
by Peace Amaraegbulam
Nigeria, the largest country in West Africa and the most populous black nation, has less than 400 orthopaedic surgeons serving a population of 180 million or more. Of this number, only 3 are female, the fourth person currently practising outside Nigeria. Being a female orthopaedic surgeon is still perceived as a great feat by many in the country. This is probably due to the belief that orthopaedic practice demands a lot of strength. Well, maybe it does, judging by the dearth of modern orthopaedic facilities in some of our centres. The question on the lips of many people when they learn I am an orthopaedic surgeon is "Where is your muscle?". They simply conclude that one must have been very strong to have ventured into this male-dominated field. Read more...
by Emma Taylor
I can remember quite clearly when I realised that orthopaedics was a career option for me. It was during my first clinical year as a medical student and I was on a placement at a District General Hospital assisting in theatre in the middle of the night and I was so interested in the case that I had forgotten the time. The following morning I was in fracture clinic with my supervising consultant who encouraged me saying that I had a knack for spotting fractures on X-rays. At that time the number of female orthopaedic consultants was probably in single figures, but it never occurred to me that it wasn't a sensible choice, and I have never had anything but support from my trainers. Read more...

Editorial Department
Editorial Secretary: Syah Bahari
Associate Editor: Mohamed Sukeik
Editorial Production: Linda Ridefjord
Editorial Board: Ahmed Abdel Azeem, Bassel El-Osta, Gandhi Solayar & Pavel Volotovski
SICOT aisbl, Rue de la Loi 26-b.13, 1040 Brussels, Belgium
Tel.: +32 2 648 68 23 | E-mail: [email protected] | Website: www.sicot.org

Disclaimer
Some of the views and information expressed in this e-Newsletter include external contributors whose views are not necessarily those of SICOT. SICOT is not responsible for the content of any external internet sites.
---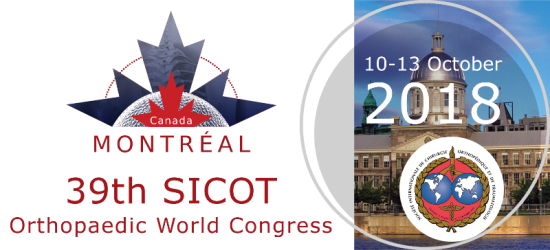 Abstract submission is now open! Submit your abstracts here
---