---
SICOT Events
Plenary Speakers: We are pleased to announce that Rodolfo Capanna and A. Seth Greenwald will be the plenary speakers at the SICOT Congress in Rome. Read more...
Educational Day: The needs of orthopaedic residents, fellows and practicing orthopaedic surgeons around the world are evolving constantly. At the same time, evidence-based knowledge in Orthopaedics is expanding at a very rapid rate. Moreover, all the residents around the world need to take exams at some stage in their career to mark completion of training and/or demonstrate competency. Also, most practicing orthopaedic surgeons do have to undergo some form of appraisal or revalidation at regular intervals to demonstrate fitness to practice. In both these scenarios, acquiring and updating knowledge in a short span of time is essential. The SICOT Educational Day was conceived with exactly this purpose in mind. Read more...

Congress registration is open here!

Registration is open here! The 14th SICOT Diploma Examination will take place in Rome in September 2016 and will consist of a written part and an oral part. Read more...

The awards available to help young surgeons attend the Congress and other prizes can be found here.

Click here for information about hotels and reserving a room in Rome.

Don't miss out on this unique opportunity to promote your products and services to leading international orthopaedic surgeons, traumatologists and specialists in related fields. Click here for more information...

For information about visa requirements for entry into Italy, please click here.
*********************************************************************************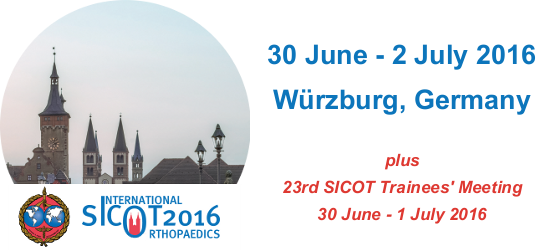 SICOT International Orthopaedics 2016 will take place at the conference centre of the Marienberg fortress in Würzburg (Germany) from 30 June to 2 July 2016. "Specialized Knee Surgery" is the major focal point of the conference.
Abstract Awards "Specialized Knee Surgery": The best three talks of SICOT International Orthopaedics 2016 will be awarded prizes in the amount of EUR 1,500, EUR 1,000 and EUR 500.

SICOT Travel Awards: SICOT supports the three best talks of the 23rd SICOT Trainees' Meeting with the SICOT Travel Award. The awards include prize money of EUR 1,000 (1st prize), EUR 600 (2nd prize) and EUR 400 (3rd prize).

23rd SICOT Trainees' Meeting
The parallel programme of the 23rd SICOT Trainees' Meeting will take place from 30 June to 1 July 2016. Please submit your abstracts here until 1 April 2016. The programme of the Trainees' Meeting is available here.
Up-to-date and any necessary information can be found on our conference website www.sicot2016.de.
---
SICOT Global Network of e-Learning - SIGNEL
Article of the Month: International Orthopaedics
Clinical significance of corrosion of cemented femoral stems in metal-on-metal hips: a retrieval study
Harry S. Hothi, Reshid Berber, Andreas C. Panagiotopoulos, Robert K. Whittaker, Camilla Rhead, John A. Skinner and Alister J. Hart
Purpose: The clinical significance of corrosion of cemented femoral stems is unclear. The purpose of this retrieval study was to: (1) report on corrosion at the stem-cement interface and (2) correlate these findings with clinical data. Read more...

Article of the Month: SICOT-J
Treatment of unstable distal radius fractures: non-invasive dynamic external fixator versus volar locking plate – functional and radiological outcome in a prospective case-controlled series
Ali S. Bajwa, Manju Rammappa, Ling Lee and Rajesh Nanda
Introduction: Distal radius fracture (DRF) is a common injury and various treatment modalities including open reduction and internal fixation (ORIF) with volar locking plate are available. More recently, a non-invasive external fixator has been used. Read more...

A 67-year-old woman presented 6 years after right primary total knee arthroplasty (TKA) with a complaint of severe knee stiffness, reduced range of motion (ROM), and pain. The TKA had been performed at an outside institution. Immediately after her primary surgery, her wound healed uneventfully, but she never achieved significant improvements in her ROM postoperatively. She had failed early manipulations under anesthesia (MUA) as well as arthroscopic lysis of adhesions. She had pain which bothered her at night, she had great difficulty with stairs and with performing basic activities of daily living. She ambulated with a cane. She could not tolerate anti-inflammatories because of her history of ulcerative colitis. She denied fevers and chills. Read more...
---
Training Around the World
Orthopaedic Training in the Czech Republic
by Martin Vlach
The Czech Republic is well-known for its beautiful cities, tourist attractions or spa treatments. Prague, the capital, is an old beautiful city which was bombed by the Germans, occupied by the Russians and under the communist regime until 1989. In 1993, then Czechoslovakia was divided into two sovereign states, the Czech and Slovak republics, and joined the European Union in 2004. However, orthopaedic training in the Czech Republic may not be as well-known as Prague. Read more...
---
'SICOT meets SICOT' Fellowship: My experience after the fellowship in Erlangen, Germany
by Pankaj Joshi
I was very grateful to be selected for the 'SICOT meets SICOT' Fellowship at Alexander Friedrich University Hospital in Erlangen, Germany, in 2013. I would like to share my thoughts and experiences with the SICOT e-Newsletter readers. Three years after the fellowship I feel that my skills, care and management of cases in trauma, orthopaedic and spine surgery have improved tremendously. Read more...
---
Update in Orthopaedics
Tranexamic acid optimal blood loss management in surface replacement arthroplasty
comment by Mohamed Sukeik
Tranexamic acid is an anti-fibrinolytic agent commonly used in orthopaedic, cardiac, urological, obstetric and gynecological surgery. It works as a competitive inhibitor of plasminogen binding sites, thereby decreasing the conversion of plasminogen to plasmin which stabilizes clot formation. Read more...
---
Editorial Department
Editorial Secretary: Hatem Said
Associate Editors: Syah Bahari & Mohamed Sukeik
Editorial Production: Linda Ridefjord
Editorial Board: Ahmed Abdel Azeem, Bassel El-Osta & Alexander McLawhorn
SICOT aisbl, Rue de la Loi 26-b.13, 1040 Brussels, Belgium
Tel.: +32 2 648 68 23 | Fax: +32 2 649 86 01
E-mail: [email protected] | Website: www.sicot.org
---
Disclaimer: Some of the views and information expressed in this e-Newsletter include external contributors whose views are not necessarily those of SICOT. SICOT is not responsible for the content of any external internet sites.