---
In Memoriam
Sir Dennis Paterson was born in Adelaide on 14 October 1930. He attended St. Peter's College, won a Commonwealth Scholarship, studied medicine at the University of Adelaide and graduated MBBS in 1952. Sir Paterson's training in medicine was at the Royal Adelaide Hospital (RAH) and the Adelaide Children's Hospital (ACH). He worked extensively in the Orthopaedic Unit with children suffering from polio and orthopaedic deformities. His training continued in 1956 in the United Kingdom at the Robert Jones and Agnes Hunt Orthopaedic Hospitals (RJAH) at Oswestry, Shropshire, obtaining the Fellowship of the Royal College of Surgeons of England in 1958. Read more...

​It is with deep sorrow that we announce the untimely demise of one of our esteemed members, Dr Joel Mbute, following a tragic road traffic accident. Dr Joel Mbute had just finished a surgery in Kitale and was driving to the annual Kenya Orthopaedic Association meeting in Eldoret when he met his death (in line with pursuing his Orthopaedic passion on Earth). Read more...
---
SICOT Events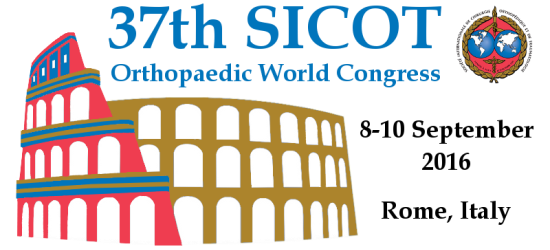 Programme at a glance: The programme at a glance can be downloaded here.
Plenary Speakers: We are pleased to announce that Rodolfo Capanna and A. Seth Greenwald will be the plenary speakers at the SICOT Congress in Rome. Read more...
Educational Day: Don't miss the SICOT Educational Day on 7 September 2016! The themes for the forthcoming Rome meeting are 'Foot & Ankle' and 'Paediatric Orthopaedics' and the day will focus on all the elements of Foot and Ankle and Paediatric Orthopaedic Surgery right from anatomy and surgical approaches to complex case discussion. Dedicated Faculty along with key opinion leaders from over 14 countries will be lecturing on the course. The SICOT Educational Day Committee has worked extremely hard to produce a great programme. So, if you wish to learn, share, debate and discuss ideas and surgical techniques in an exciting environment with a group of international surgeons in one room, the Educational Day is the place for you. Read more...
19th Cooperative Course for Polytrauma Management: We are pleased to inform you that from 7 to 8 September during the 37th SICOT Orthopaedic World Congress in Rome, SICOT is organising the 19th Cooperative Course for Polytrauma Management, Beyond ATLS. There will be international experts in traumatology sharing their experiences during the course. It will be conducted in English and all participants will receive a certificate. By partnering with SICOT the registration fee for this year's course has been reduced to EUR 300 (plus 22% VAT). Participants must register and pay the registration fee for the 37th SICOT Orthopaedic World Congress to be able to register for the course. Read more...

Congress registration is open here! The online registration deadline is 8 August 2016.

The awards available to help young surgeons attend the Congress and other prizes can be found here.

Click here for details about the Papal General Audience, Opening Ceremony, Welcome Reception, Congress Dinner and Closing Ceremony.
Papal General Audience: The SICOT Congress in Rome will be taking place during the Holy Year of Mercy. In view of this, tickets for the Papal General Audience on 7 September have been reserved by SICOT for the Congress participants! Don't miss the opportunity to see the Pope at Vatican City during this special time.
Opening Ceremony: The guest speaker at the Opening Ceremony will be art historian Costantino D'Orazio who will speak about "The beauty of Rome through the art of cinema" and guide you through the Eternal City presenting some amazing scenes of famous movies. Watch this video to find out more...
Congress Dinner: Don't miss the Congress Dinner at the beautiful Villa Miani, offering a unique panorama overlooking the city of Rome.

Click here for details about the Golf Tournament which will be held at the oldest Italian golf club with more than 100 years of history and located in the beautiful countryside outside the city.

Information about hotels and reserving a room in Rome can be found here.

Don't miss out on this unique opportunity to promote your products and services to leading international orthopaedic surgeons, traumatologists and specialists in related fields. Click here for more information...

For information about visa requirements for entry into Italy, please click here. Please apply for a visa early since applications may take 120 days to be processed.
*************************************************************************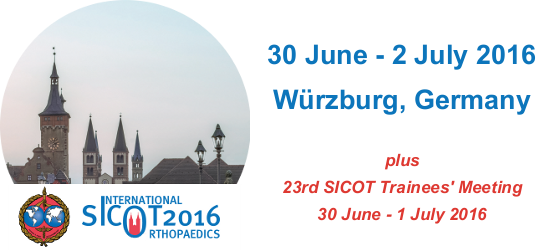 The SICOT International Orthopaedics 2016 meeting will take place at the conference centre of the Marienberg fortress in Würzburg (Germany) from 30 June to 2 July 2016. "Specialized Knee Surgery" is the major focal point of the conference. The parallel programme of the 23rd SICOT Trainees' Meeting will take place from 30 June to 1 July 2016.

Final Programme is now available for download.
Session Planner of the conference (overview).
Scientific Programme of the 23rd SICOT Trainees Meeting.

We would also like to draw your attention to the social programme which includes:
- Social Evening in the "Bürgerbräu Würzburg" (Friday, 1 July)
- Golf Tournament (Sunday, 3 July)

All the latest news can be found on the conference website: www.sicot2016.de
---

SICOT News
Patronage for the IOC World Conference on Prevention of Injury & Illness in Sport
SICOT is pleased to announce its patronage for the IOC World Conference on Prevention of Injury & Illness in Sport to be held from 16 to 18 March 2017 in Monaco. SICOT members will be able to benefit from a special discount on the registration fee and only pay EUR 500 instead of EUR 650 for the 3 days. If you are interested in attending the conference, please contact [email protected]. The preliminary conference programme can be found here. Read more...
---

SICOT Global Network of e-Learning - SIGNEL
Article of the Month: International Orthopaedics Journal
Radiographic templating of total hip arthroplasty for femoral neck fractures
Dror Lakstein, Ira Bachar, Ronen Debi, Omri Lubovsky, Ornit Cohen, Zachary Tan & Ehud Atoun
The purpose of this study was to evaluate the use of pre-operative digital templating to minimize complications including limb length discrepancy (LLD), intraoperative fractures and early dislocations in patients with intracapsular femoral neck fractures. Read more...

Article of the Month: SICOT-J
Cementless anatomical prosthesis for the treatment of 3-part and 4-part proximal humerus fractures: cadaver study and prospective clinical study with minimum 2 years followup
Laurent Obert, Rachid Saadnia, François Loisel, Julien Uhring, Antoine Adam, Séverin Rochet, Pascal Clappaz & Tristan Lascar
The purpose of this study was to evaluate the functional and radiological outcomes of a cementless, trauma-specific locked stem for 3- and 4-part proximal humeral fractures. Read more...

Case of the Month
by Bassel El-Osta, Theodoros Philippou & Tomáš Trč
An 11-year-old boy presented to a clinic (outside of Prague) due to pain in the right knee which was not significant but just for check-up. The child is otherwise very fit and well. There is no previous medical history except a history of trauma at the age of 3 which was insignificant and the parents did not bring him for medical attention until later that year. Read more...
---
Training Around the World
Orthopaedic Training in Greece
by Vasileios Soranoglou, Lazaros Poultsides & Alexander McLawhorn
"It is impossible for someone to know medicine, unless he knows exactly what human is". This is a quote from Hippocrates, the father of medicine, and delineates the true deep meaning and mission of medical science throughout the centuries. In ancient Greece, Hippocrates first described treatments for dislocations and infections complicating fractures. The Hippocratic School and, later on, Galen formulated the theories which dominated medicine up to the beginning of the 18th century. The Greeks were the founders of rational medicine in the golden age of Greek civilization in the 5th century B.C.. Thus, it is not surprising that nearly three-fourths of medical terminology is of Greek origin. For example, "orthopaedics" is a compound word deriving from the Greek words "orthos" (meaning correct or straight) and "paidion" (meaning child). Read more...
---
Fellowship News
2016 TCH/SICOT Research Fellowship Report
by Dhavalkumar J. Patel
I would like to thank SICOT and Dr Dormans for giving me this opportunity. I would also like to thank Ms Mary Riordan and Mr Cody Sanderson for their help and support during the communication to set up the process for me to be in the United States for this fellowship from India. It is a privilege and honour to write the experience report for my TCH/SICOT Research Fellowship at the Texas Children's Hospital (TCH). Read more...

AAOS/SICOT International Surgical Skills Scholarship Program
The American Academy of Orthopaedic Surgeons (AAOS) is pleased to announce it is accepting applications for the 2017 AAOS/SICOT International Surgical Skills Scholarship Program. Through a generous contribution from SICOT United States, AAOS will award one scholarship to a SICOT member for the intended purpose to travel to the United States to attend a hands-on orthopaedic surgical skills course with cadaveric specimens. Application deadline: 1 August 2016 - Read more...
---
History of Orthopaedics
A Brief History of Orthopaedic Surgery in Italy
by A. Volpin, G. Trovarelli & P. Ruggieri
It is almost an impossible task to try and summarise in a brief article all the history of Trauma and Orthopaedics in Italy. So we will focus on the pioneers who contributed effectively to the improvement of this discipline in Italy and worldwide. Read more...
---
Update in Orthopaedics
Effect of Spinal Deformity on Pelvic Orientation from Standing to Sitting Position
Comment by Alexander S. McLawhorn & Jeffrey Lange
For total hip arthroplasty (THA), Lewinnek's "safe zone" (40° ± 10° of inclination; 15° ± 10° of anteversion) is often targeted for acetabular component orientation with the goal of minimising the risk of postoperative dislocation. However, two recent papers have questioned whether or not static acetabular component position alone predicts the risk for postoperative instability. Read more...
---
Exam Corner



Foot & Ankle
Prepared by Mohamed Sukeik
1. Which of the following structures locks the transverse tarsal joints during toe-off phase of gait?
a. Anterior tibialis tendon
b. Posterior tibialis tendon
c. Extensor hallucis longus
d. Peroneus longus
e. Peroneus brevis
---
Course Appraisal
Ganga CTLS Course Report
by Hossam Abubeih, Tamer Ads, Mahmoud Badran, Ahmed Elmalt, Ayman Farouk, Hazem Farouk & Zeyad Zakareya
​Firstly, we would all like to thank SICOT and Prof Rajasekaran, SICOT President Elect and the Head of the Orthopaedic Department at Ganga hospital, for giving us this opportunity to attend one of the most valuable courses in dealing with trauma patients: the Comprehensive Trauma Life Support (CTLS) course. Read more...
---
Courses by SICOT Members
2nd Assiut Hip Arthroscopy & Arthroplasty Course - Cadaveric Training
Two consecutive courses on Hip Arthroscopy (two days) followed by Hip Arthroplasty (one day) will be held on 11-13 October 2016 in Assiut, Egypt. The courses are targeted to surgeons with arthroscopic skills and wishing to train in the field of hip arthroscopy. This cadaveric course will offer lectures, live surgery, and wet lab. You will get a chance to perform surgical procedures from basic to advanced FAI surgery. The last day is an Arthroplasty Course for surgeons who wish to develop their arthroplasty skills in Cemented and Cementless THR. For more information, please email [email protected] or [email protected]. Download the leaflet here...
Musculoskeletal Oncology Course
Profs Pietro Ruggieri, co-chairman of the SICOT Subspecialty Committee of Tumours, and Douglas Letson are the directors of the first edition of the Musculoskeletal Oncology Course of the University of Padova (Padua), which will be held on 16-18 September 2016 in Venice, Italy. The Course aims to offer a review and update of the knowledge in musculoskeletal oncology and more specifically to provide basic information on clinical features, imaging, pathology and principles of treatment of the bone and soft tissue tumours and pseudotumoral lesions. It is a short but comprehensive course, addressed to residents and young doctors (orthopaedic surgeons, radiologists, pathologists and medical oncologists) who wish to start their activity or are already involved in the field of musculoskeletal oncology and would like to refresh or widen their knowledge. Read more...
---
Editorial Department
Editorial Secretary: Hatem Said
Associate Editors: Syah Bahari & Mohamed Sukeik
Editorial Production: Linda Ridefjord
Editorial Board: Ahmed Abdel Azeem, Bassel El-Osta & Alexander McLawhorn
SICOT aisbl, Rue de la Loi 26-b.13, 1040 Brussels, Belgium
Tel.: +32 2 648 68 23 | E-mail: [email protected] | Website: www.sicot.org
---
Disclaimer: Some of the views and information expressed in this e-Newsletter include external contributors whose views are not necessarily those of SICOT. SICOT is not responsible for the content of any external internet sites.