---
Editorial by Saumitra Goyal
Health Training in the Private Sector
Availability of human resource is a critical factor for effective provision and delivery of quality health care to the growing needs of the growing global population. WHO's Global Atlas of Health Workforce (2010) recognised that the vast majority of states are facing a crisis in healthcare workforce due to increasing costs and demands, uneven distribution and skill imbalance. The private sector is emerging as a major partner in health systems at the primary, secondary and tertiary levels all over the world. Although the importance of training health professionals like medical officers, nurses, pharmacists and other paramedical staff providing basic health facilities at the grass root level cannot be overemphasised, the role of the private sector in the training of doctors and development of skills will be the focus of discussion here. Read more...
---
SICOT Events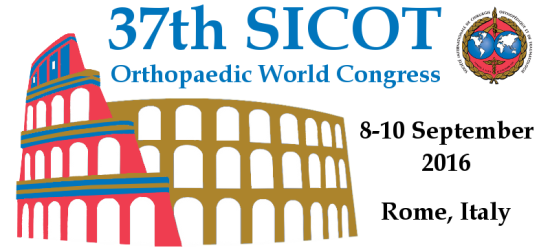 Find out more here about the awards that are available to help young surgeons attend the Congress and other prizes.
Don't miss out on this unique opportunity to promote your products and services to leading international orthopaedic surgeons, traumatologists and specialists in related fields. Click here for more information...
*********************************************************************************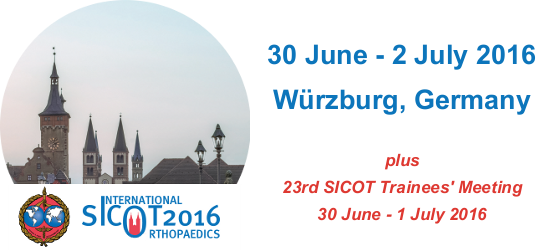 SICOT International Orthopaedics 2016 will take place at the conference centre of the Marienberg fortress in Würzburg (Germany) from 30 June to 2 July 2016. "Specialized Knee Surgery" is the major focal point of the conference.
Keynote Speakers

Please click here for the list of confirmed keynote speakers.

Call for Abstracts

Please click here to view the flyer "Call for Abstracts".

23rd SICOT Trainees' Meeting
The parallel programme of the 23rd SICOT Trainees' Meeting will last from 30 June to 1 July 2016. You can send in your abstract(s) until 28 February 2016. Further information can be found on the website: www.sicot2016.de
If you have any questions, please visit www.sicot2016.de or contact the organising agency, Conventus, via phone +49 3641 31 16 305 or e-mail [email protected].
---
SICOT News
Commissioning of Lagos SICOT Education Centre
by Wahab Yinusa
The Commissioning of the Lagos SICOT Education Centre took place on the second day of a three-day Arthroplasty Workshop on the hip and knee. The workshop was well attended with about fifty orthopaedic surgeons and residents from different parts of Nigeria in attendance. Prof Maher Halawa, who represented the SICOT President, participated and made useful contributions at the Workshop. Read more...
---
SICOT Global Network for Electronic Learning - SIGNEL
Article of the Month - SICOT-J
Retrograde nailing for distal femur fractures in the elderly
Jasdeep Giddie, Seif Sawalha and Martyn Parker
Introduction: We report the results of treating a series of 56 fractures in 54 elderly patients with a distal femur fracture with a retrograde femoral nail. Read more...

A 20-year-old female presented with right knee pain and swelling over one month. The swelling has progressively worsened over that period. Patient denied any history of recent trauma or sport injuries. She also denied any febrile episode. She had no history of surgery to the right knee. She denies any weight loss or night pain. On examination, she was walking with an antalgic gait. Knee effusion was clinically detected. No focal bony tenderness. Knee range of motion was slightly restricted. The knee was grossly stable. Radiograph of right knee was performed. Read more...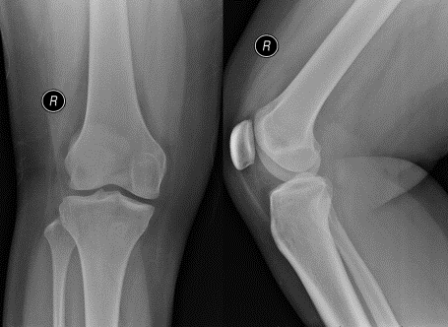 ---
Training Around the World
Female Orthopaedic Training in Saudi Arabia
by Sara Ghazi Qadi
I am delighted to have this opportunity to write about my experience as a female trainee in an orthopaedic surgery programme. Orthopaedic training in the Kingdom of Saudi Arabia (KSA) is a five-year programme divided into three years as a junior resident and two years as a senior resident. In the first year, we go through other specialties such as plastic and general surgery as well as ICU for 3 months each. After that, we spend the rest of our training rotating in different subspecialties of orthopaedic surgery. Read more...
---
Fellowship News
Report of the SICOT Danish Travelling Fellowship at Århus University Hospital, Denmark
by Peace Amaraegbulam
I applied for the SICOT Danish Travelling Fellowship at the Århus University Hospital with high hopes. It was a dream come true when I received the letter from SICOT that I had been accepted for the fellowship. It was a while before I would get a date confirmed for my visit, but once I received that I started preparing for the trip. Read more...

SICOT Travelling Fellowships - Application Deadline
Don't miss the application deadline for the SICOT Travelling Fellowships: 31 December 2015. These three-month fellowships allow young surgeons to visit an internationally renowned orthopaedic centre. The aim is to improve knowledge and surgical skills. Read more...

TTSH/SICOT Trauma and Hand Fellowship Award - Application Deadline
Don't miss the application deadline for the TTSH/SICOT Trauma and Hand Fellowship Award: 31 December 2015. The TTSH/SICOT Trauma & Hand Fellowship will give the fellow a comprehensive exposure to both subspecialties (Trauma Surgery and Hand Surgery for 3 months each). It will be a unique experience as both services compliment each other in managing trauma cases requiring fixation and soft tissue coverage. Besides, there will also be opportunities for research and teaching. Read more...
---
Update in Orthopaedics
Back to Basics: Management of Closed Midshaft Clavicle Fracture
comment by Syah Bahari
In December 2014, the SICOT e-Newsletter published a scientific debate article on the management of closed midshaft clavicle fractures. I was writing the article on behalf of the non-operative treatment options and I noted that there was a lack of recent evidences for non-operative treatment. When compared to open reduction and internal fixation treatment, the number of evidences published were more recent which showed improved functional outcome when compared to non-operative treatment. Furthermore, the recent randomised trials were comparing non-operative versus operative treatment and none were comparing the various modalities of non-operative treatments. Read more...
---
Industry News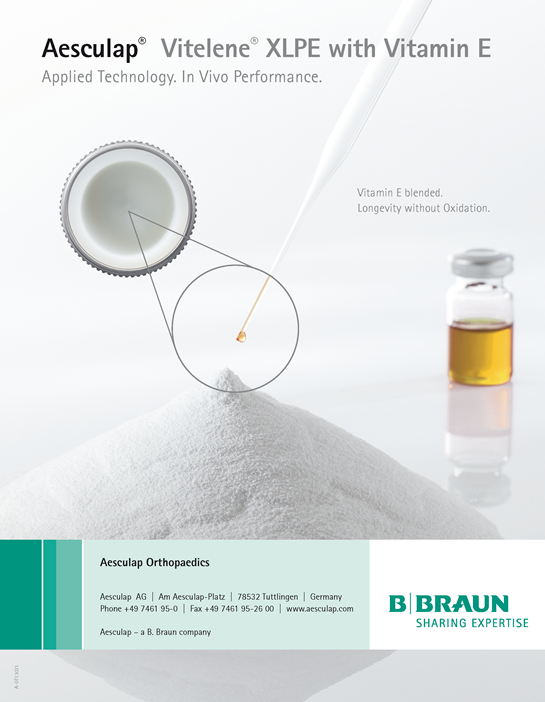 ---
Editorial Department
Editorial Secretary: Hatem Said
Associate Editors: Syah Bahari & Mohamed Sukeik
Editorial Production: Linda Ridefjord
Editorial Board: Ahmed Abdel Azeem, Bassel El-Osta, Shalin Maheshwari
SICOT aisbl, Rue de la Loi 26-b.13, 1040 Brussels, Belgium
Tel.: +32 2 648 68 23 | Fax: +32 2 649 86 01
E-mail: [email protected] | Website: www.sicot.org
---
Disclaimer: Some of the views and information expressed in this e-Newsletter include external contributors whose views are not necessarily those of SICOT. SICOT is not responsible for the content of any external internet sites.